About Us
We are in the process of becoming a 501C3 not for profit organization, called Waking Planet. It will be a collector and transmitter of all the positive news of our individual and planetary awakening. We will highlight projects that create a saner, more just, peaceful and loving planet, eventually using this platform to raise needed funds for worthy local and global programs.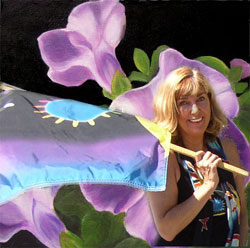 Waking Planet will share news, art, music, people and projects that energize, uplift and inspire all of us to believe in our ability to create a new world- one based on love rather than fear.
We are in the process of creating a Board of Directors and hope to have representation from India, Germany, Ghana, Georgia and other countries.
Waking Planet will also showcase the Waking Planet Peace Flag and the artwork of founder, Barbara Upton. With time, we would like to also show transformational and visionary art from other artists. There will be a music album pick of the month and musician and ethnomusicologist Joakim Lartey will write a periodic column.
Barbara, who created the Waking Planet World Flag, is an artist, writer, peace maker, owl lover, sharer of beauty and joy and believer in the inherent goodness of humanity. She had a professional career in marketing, development and corporate training.
We hope you will visit often and also check out Barbara's blog at WakingPlanet.blogspot.com. Join the discussion about the evolutionary shift we are experiencing and share news you feel exemplifies the spirit of that transformation. Some of the good news posted there will also appear on this site, with acknowledgement. Eventually, you will be able to sign up to regularly receive the five, good news items from around the world!
Ordering from Us
If you order flags, decals, (Waking Planet t-shirts coming soon), art prints, CD's or anything at all from us, it will be sent within 48 hours (with the exception of some artwork) and comes with a money back guarantee if you are not fully satisfied. We will NEVER share your email with anyone.
Thank you for visiting and for being a part of the Great Awakening. You are needed!
All photos and artwork © Barbara Upton unless otherwise noted. All rights reserved.