Welcome to Our Waking Planet!

So happy you have found us! We are on the cusp of a great awakening and each of us is needed to bring more light and love to our planet.
Together, we are remembering the sacredness and unity of all life. We are awakening to our power and responsibility to create a new world that works for everyone.
I hope this site will help you to remember that the shadows only grow darkest at the time of greatest light; that although the challenges facing us are great, they are not as great as what is in us!
I see signs of our Waking Planet (our evolving consciousness) everywhere! I see them in global and local good news, in art, music, and in people and projects creating connection, compassion and a more loving world. Visit often, contribute news you find uplifting and be a part of the Waking Planet Community. And I hope you visit the Waking Planet blog where I focus on tools for awakening!
The Waking Planet World Flag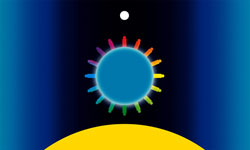 After 9/11, I was struck with the power of the American flag to galvanize a nation after a great tragedy. I was also impressed with the outpouring of support for our country from all over the world. So I could not help but wonder, where is the symbol for the unity and harmony of all the people of the earth? Where is the world flag?
Waking Planet Flag © B Upton
A few days later, while meditating, this is the one and only image that came to me. It represents all that is best in the human spirit; our ability to wage peace, foster social and economic justice, ensure racial harmony, protect our earth, and create a saner and more loving world.
The Waking Planet World Peace Flag is joyful symbol of the peace available within us and in our world and it represents the awakening consciousness we are now experiencing!
Transformational Art
On these pages there will be offerings of beauty to feed the soul, prophetic visions of our new future and art that reveals the hidden dimensions of who we are. High quality prints, original art, cards and more are available for sale.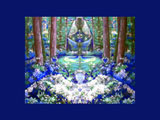 The work above is part of my Sacred Symmetries Series, which uses mirroring to reveal the spiritual realm. Click here to see more art, including owl photography and prints.
Signs of Our Waking Planet, of Evolving Consciousness over Time


The dates are approximate, the choices subjective, but I think the following movements, events and victories demonstrate that we are living in amazing times of great transformation. They clearly show us how we are evolving from a world of separation, exploitation and fear to one based on unity, justice and love.

I begin with what I see as the first stirrings of awakening on our planet; the abolitionist movement. For the first time in history, a group of people fought for others they did not personally know, but for whom they risked everything. Many of the world-changing movements that followed also remind us of the words of Margaret Mead, "Never doubt that a small group of thoughtful, committed citizens can change the world. Indeed it is the only thing that ever has."

I hope it will give you strength and faith in our ability to continue the work — to stand on the shoulders of those who have come before us to continue to create a more just and compassionate world.

View the signs

"Someday, after mastering the winds, the waves, the tides and gravity, we shall harness for God the energies of love, and then, for a second time in the history of the world, man will have discovered fire."

Pierre Teilhard de Chardin